pvc-asso.ir
Exports rising For extrusion machines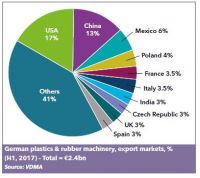 Exports of German plastics and rubber extrusion machinery moved up again in the first half of this year, according to the VDMA trade association.

Sales rose by more than 8% to exceed E336m for the half-year, said VDMA. The rise in exports of extrusion machinery was more than twice that of the general market for plastics machinery. Exports to the USA (up 85%) and Brazil (up 116%) were particularly strong, while there was also a 19% rise in exports to Spain and a huge 2,204% increase in sales to Portugal.
On the downside, there were declines in sales of extrusion machinery to France (by 59%), Poland (25%), China (6%) and Mexico (nearly 2%). Extrusion machinery accounted for 14% of all plastics machinery exports from Germany, according to figures. Overall, total exports of German plastics machinery increased by 3.8% to reach E2.4 billion. While the USA is still the top export market – growing 4.2%, to top E400m – sales
to China (up 19%) and Mexico (up 26% to E137m) grew more strongly.
"All three of our most important markets recorded an above-average increase, "said Ulrich Reifenhuser, chairman of the VDMA Plastics and Rubber Machinery Association. "The very positive development in China is striking. "Total sales to China exceeded E310m for the half-year, in contrast to the first half of 2016 – when sales declined by 22%."Many members already have their own production locations in China, which accounts for the export decline of last year," said Thorsten Kühmann, the organisation's managing director.
"However, due to this and in the light of the revaluation of the Euro compared to the Chinese Renminbi, the export increase is even more encouraging." While exports to the European Union fell 6% to E848m – fuelled mainly by reduced sales to Poland, France and Italy – there were increased exports to Brazil and Russia.
Exports to Russia rose 43% to almost E60m, while those to Brazil were up 78% to E35m.