pvc-asso.ir
Co-extrusion with PBT adds stiffness to window frames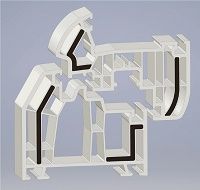 BASF has developed a grade of its Ultradur polybutylene terephthalate (PBT) that can be co-extruded with PVC – to replace steel as a stiffening element in PVC window frames.

The resulting structure is as strong as its steelcontaining counterpart, while being lighter and more cost-effective, says the company. Its insulation performance is also higher, with the Uf value being reduced by 0.1W/mK.

"Thanks to its simplified production and cost-effectiveness, this Ultradur gives profile manufacturers and window constructors an edge in the marketplace,"said Kay Brockmüller,project manager for construction at BASF.

Ultradur is very rigid, and binds with PVC. The co-extruded profile is weldable and undergoes the same downstream treatment as other profiles. The process also permits the best-possible reinforcement geometry for the profile in question, says BASF.
Window frames made in this way would be recycled by crushing them into small pieces (of around 5mm), then separating the materials either by colour or density. For window constructors, all the steel associated activities are eliminated.

The profile also has high dimensional stability and virtually no tendency to shrink after installation.Greiner Extrusion will develop tooling to co-extrude PVC and PBT.
Journal: Pipe and Profile Extrusion