pvc-asso.ir
SMART SPIDER PVC PIPE CLEANER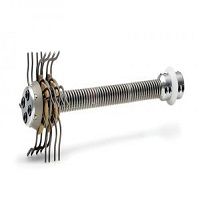 Finland-based Picote has developed a range of cleaning equipment and accessories that has either been specifically designed to work in PVC or can be adapted to clean PVC without detriment to the pipe.
One of these developments is the Picote Smart Spider, which cleans all types of pipes fast and in a highly efficient manner and is even safe to use in PVC pipes.. A unique tool designed specifically for pipes where the base or other sections are missing. Easily navigates 90 degree bends.

Available sizes: DN100/4" & DN150/6"when used with Picote's Maxi Miller machine to drive the cleaning unit. It is also available for use in 6 in (150 mm) and 8 in (200 mm) diameter pipes when used with the Maxi Power Plus miller machine. For smaller sizes in cast iron, clay or concrete pipes, Picote chains is recommended.The tool can also be easily rebuilt when necessary using affordable spare parts.

Operate at a slower speed: Max 1000 RPM. Only operate with a Maxi Miller.

Attach your Smart Spider to the shaft (always use a sleeve bearing). Check the rotational direction - always rotate clockwise. Position the Spider inside the pipe by manually rotating the Spider legs. Turn your Maxi Miller on (Max 1000rpm). Now start your cleaning process. Be aware of the proficiency of the Smart Spider - continuously flush the dust out of the pipe
Source: plumbermag