pvc-asso.ir
 Lower environmental impact of pvc pipe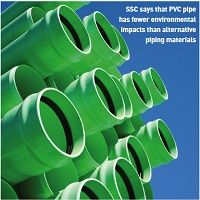 A lifecycle assessment (LCA) of PVC pipe in North America has concluded that the material has "fewer environmental impacts" than alternative materials when used for underground pipe.

According to Sustainable Solutions Corporation (SSC), which carried out the study, PVC pipe was shown to have fewer environmental impacts from a life cycle and carbon footprint perspective – including lower embodied energy, lower use-phase energy and longer life attributes. As an example, the study says that the energy needed to pump water through PVC pipe over a 100-year design life remains constant because its walls are smooth and do not roughen over time. "This generates overall life cycle cost savings and a lower carbon footprint compared to alternative materials that require more pumping energy over time due to corrosion, leaks and internal degradation," said the report.
The Uni-Bell PVC Pipe Association commissioned SSC to perform the LCA for commonly used PVC pipes for drinking water, sanitary sewer, and storm sewer piping – covering the 4-60in rigid PVC pipe market. The pipe assessed in the study was representative of PVC pipe made in the US and Canada that uses a tin-based stabiliser, and does not contain phthalates, lead or cadmium, said SSC.SSC claims that the report, Life Cycle Assessment of PVC Water and Sewer Pipe and Comparative Sustainability Analysis of Pipe Materials, is the first comprehensive environmental review of underground piping systems in North America.

Based on a 100-year life cycle assessment methodology, the review includes a study of PVC pipe – conducted according to LCA standards ISO 14040 series. The LCA used in the report was peer reviewed by a panel of experts for ISO 14040 series compliance, said SSC.

The report includes a comparative review of alternative pipe products – based on publicly available information
– regarding durability, smoothness factors, and statistical data, as well as environmental data when available. "The PVC pipe industry is the only pipe [sector] that has ransparently reported the sustainability and environmental impacts [of its material]," said Tad Radzinski, president of SSC.

PVC recycling in Europe rose by 11% in 2016, according to VinylPlus, the European PVC industry's 10-year voluntary commitment to sustainability. PVC recycling for the year topped 568,000 tonnes, putting it on target to reach its 2020 target of 800,000 tonnes/year.

Within this, recycling of pipes and fittings rose 15%, to exceed 57, 000 tonnes. However, members of the Teppfa industry body reported using 30% less recyclate in 2015 compared to

2014, which was due to worries and uncertainties over the EU regulatory framework on the use of recycled PVC.
Recycling of window profiles which account for the bulk of the total – rose by around 10% to top 256,000 tonnes. In 2016, the EPPA trade body launched the 'Hybrid Project', which aims to develop and monitor the best technologies for PVC windows made of hybrid materials.There are also industry focused projects – such as the UK-based RecoMed, which last year collected nearly 1,400kg of medical PVC waste from hospitals, including medical tubing.
VinylPlus has decided to withdraw a project that was intended to develop new technologies for "difficult to recycle" PVC material. The project, based on Fraunhofer's Creasolv process, was intended to recycle 100,000 tonnes/year of material. Although the project has been shelved, the overall recycling target of 800,000 tonnes per year by 2020 remains in place.VinylPlus said that analysis by its Controlled Loop Committee had found the project to be unrealistic.
"None of the explored technologies or projects – some of which are promising but still at an experimental stage – is expected to be able to contribute sufficient recycling quantities by 2020 to achieve the objective [of 100,000 tonnes/year]," said VinylPlus is its progress report.

However, it said it would continue to look for technically and economically feasible ways of handling these types of material in future.