pvc-asso.ir
 PVC FITTING FOR reinforced concrete pipe systems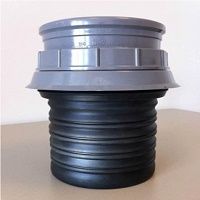 Pipelife's fitting offers easy and quick connections for wide range of concrete pipe diameters.


This lateral PVC inlet connector is specifically designed to easily accommodate concrete pipe wall diameters of 60 to 350 mm.
Used with DN 160mm bore holes, the new injection-molded fitting allows concrete pipes to be connected to a PVC pipe network easily and quickly. Installation requires only simple tools and the fitting is supplied with a special seal that protects against corrosion from any reinforced steel contained within the concrete pipe.
Scot McGuire, International Project Manager for Pipelife explains: "Although a few similar products are available on the market, nothing compares to the flexibility of this product for the end user."
It is interesting to note that the connector was nominated for the 2013 SolVin Award for Innovation.
Source: pvc 4pipes